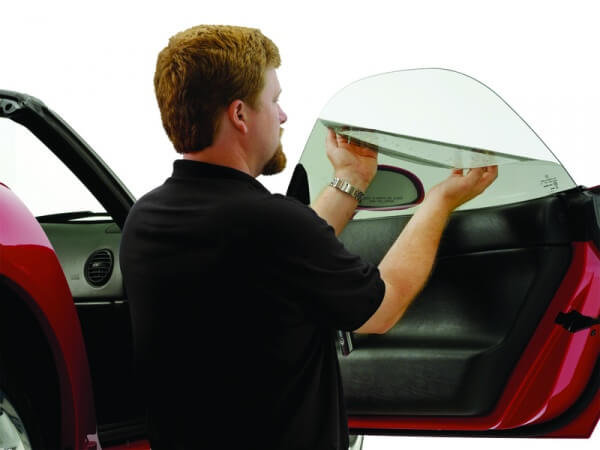 Every vehicle owner understands the importance of their vehicle – it is what gets them from point A to point B quickly and efficiently. There are plenty of accessories and amenities that a person can add to their vehicle, one of those being window tinting. So, what are some of the most important benefits of automotive window tinting?
One of the most popular benefits is that it adds a level of privacy to the vehicle. Tinted windows cause it to be really hard, nearly impossible, for anybody to see inside the car.  The layer of film is dark, which provides the people inside to see out but people outside are unable to see in. This means it will be harder for people to see in your windows. With tinted windows it will be harder for people to see the valuables you have in your car, and it will also give a sense of privacy.
Window tint also gives you an added level of security as well. Since it is hard for someone to see inside the vehicle, that means they are unable to see if there are valuables or anything nice inside the car, lowering the desire to break in and steal those valuables. This protects you and everything inside because of the window tint.
The darkness that window tint provides also help protect you from the sun's harsh UV rays. Window tint lets less light into the vehicle, therefore it is helping prevent and protect your skin from cancer as well as protecting the material inside of your vehicle from the light as well. By protecting the material, all of the fabric and other materials are not going to fade and deteriorate as quickly because of the sunlight not entering the vehicle.
You are also well protected in case of a car crash when the vehicle has window tint on all of the windows. Window tint helps holds all of the glass together if you are in an accident, so when there is an accident the window film will help hold the glass together. This adds protection to you and everything else that is in the vehicle at the time of the accident.
Automotive window tinting is very beneficial for every vehicle owner. Window tint helps to keep you safe, provide privacy, protect you from shattered glass in an accident, as well as provide the vehicle's interior to have a longer life span because of the lack of harmful sun rays entering the car. By having window tint professionally installed, you will notice the benefits of the window tint from the day it is installed in your vehicle.
About the Author:
Denver Window Tinting Company All American Window Tinting is happy to bring you this informative article on the benefits of window tinting. If you are interested in window tint in Denver, please be sure to check out their website today.