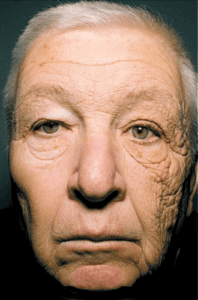 This latest blog entry is just a reminder of the health benefits of having your windows tinted. You might have actually seen this strange story on the news. Half of a truck driver's face was prematurely aged due to sun damage or "unilateral dermatoheliosis" — severe damage from ultraviolet rays on one side of his face.
The unnamed man, who gave permission for his photo to be used in new stories, told researchers that had driven a delivery truck for 28 years.
Ultraviolet A (UVA) had penetrated the window glass, damaging the outermost layers and sublayers of his skin. The right side of his face had been protected from being inside the truck, away from the direct sunlight.
Window tinting film can also block up to 99% of ultraviolet (UV) radiation from the sun, preventing certain health problems that are related to UV skin exposure.



Protect Yourself From Harmful UVA Rays! – Simply call us today for your free consultation.
100% Satisfaction Guarantee
206-335-9917 | Contact Us