What is 3m Clear Bra Paint Protection?
Clear bra is a common name for 'paint protection film', or, PPF.
Clear bra is an incredibly durable clear urethane film that helps preserve your vehicle's finish by protecting vulnerable painted surfaces from common road hazards-such as rocks, sand, bug acids and roadway debris.
Emerald City Window Tinting installs 3M Paint Protection Film, on new and used vehicles. Also known as "clear bra," this nearly invisible film is applied to the painted surfaces of your car (hood, fender, bumper, mirrors) to protect them from road debris such as rocks, bugs, salt, etc.
Made of a 6 mil (.006") thick clear urethane plastic (8 mil when you count the adhesive), 3M Paint Protection Film was initially designed to protect helicopter blades from debris during the Vietnam War. Since then, it has been used by various auto manufacturers and NASCAR teams to protect painted surfaces from rock chips. You should consider maintaining the appearance of your vehicle and enhance its trade-in value by protecting its paint with 3M Paint Protection Film.
Clear car bra films are typically applied to the impact zones on vehicles parts such as hoods, fenders, side mirrors, bumpers, grills, rocker panels, headlights covers, floodlights, car door protection, luggage areas, rear bumper decks, roof and A-pillars creating invisible paint protection.


Here are examples of where clear bra film can be put on your car.

You should consider 3M Paint Protection Film, "Clear Bra" to protect your paint, and your cars resale value. 3M Paint Protection Film will help keep your vehicle looking showroom new.
3m Clear Bra Installation
Properly applied, clear bra paint protection is virtually invisible in appearance but please remember that installation requires skill and experience to reduce or eliminate installation errors such as lift lines, dry spots, stretch mark and bubbles which would make the film unsightly and more visible. Only an experienced installer like Emerald City Window Tinting, can ensure smooth lines and reduce the need for relief cuts.
Emerald City Window Tinting is a 3M certified Clear Bra installer since 2011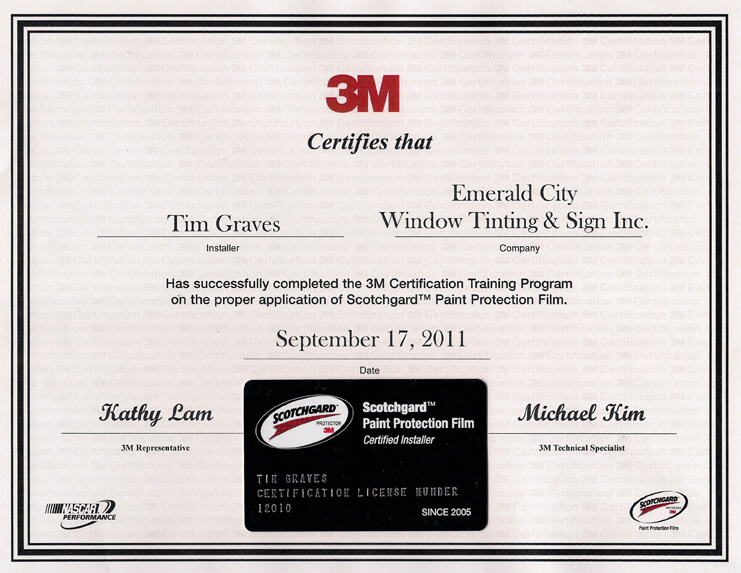 3m Clear Bra Cost
The cost of clear bra installation can vary depending on the amount 3m clear bra paint protection you would like. Use our quick estimate form below.
3M Clear Bra Care
Please wait two weeks before your next mechanical car wash. Heavy water pressure can cause the newly installed protective film to lift around edges. You may hand wash your vehicle three days after installation. REMEMBER: All urethane films, will take 4 weeks to fully cure out depending on seasonal temperatures. Warmer weather will speed up this process.
During the curing process, you might see a small water bubble, haze or condensation under the film or in a small area that has not settled out with the adhesive curing process. The urethane film cures through a breathing process, the same process as your natural paint surfaces do. The water bubble, haze or condensation will evaporate through the film and cure out over the weeks to come, along with the adhesive bonding process.